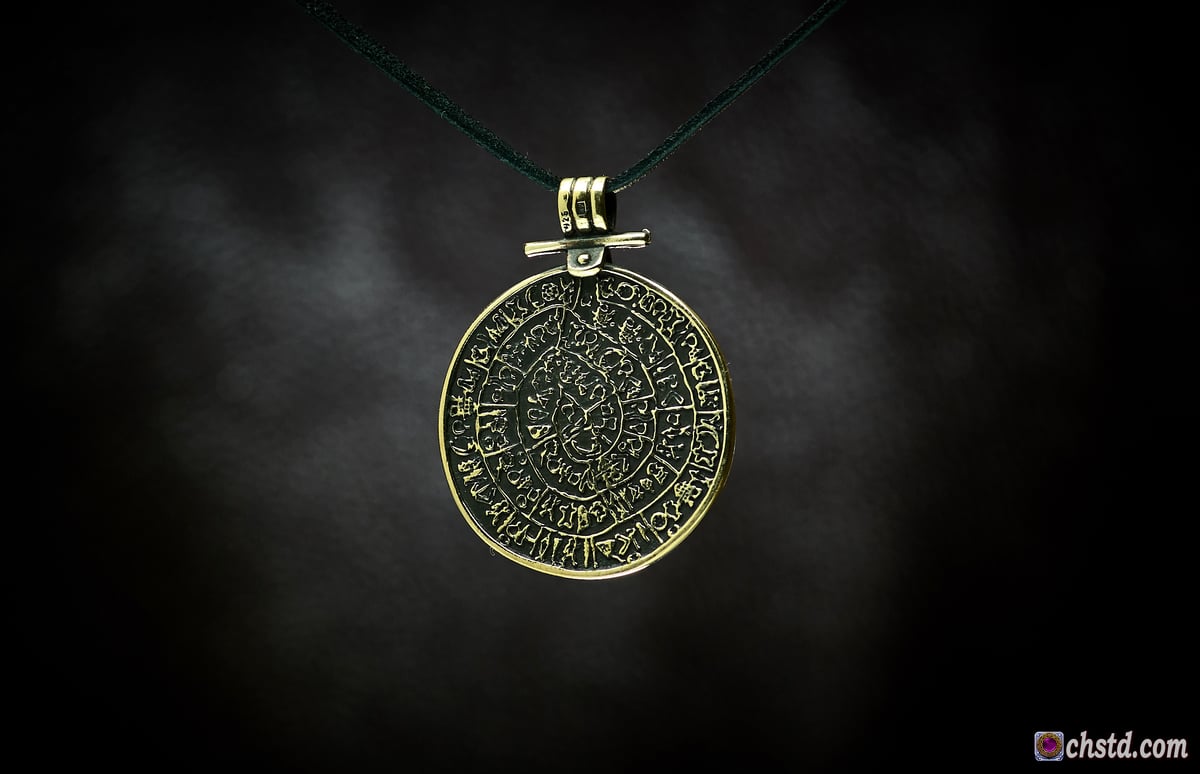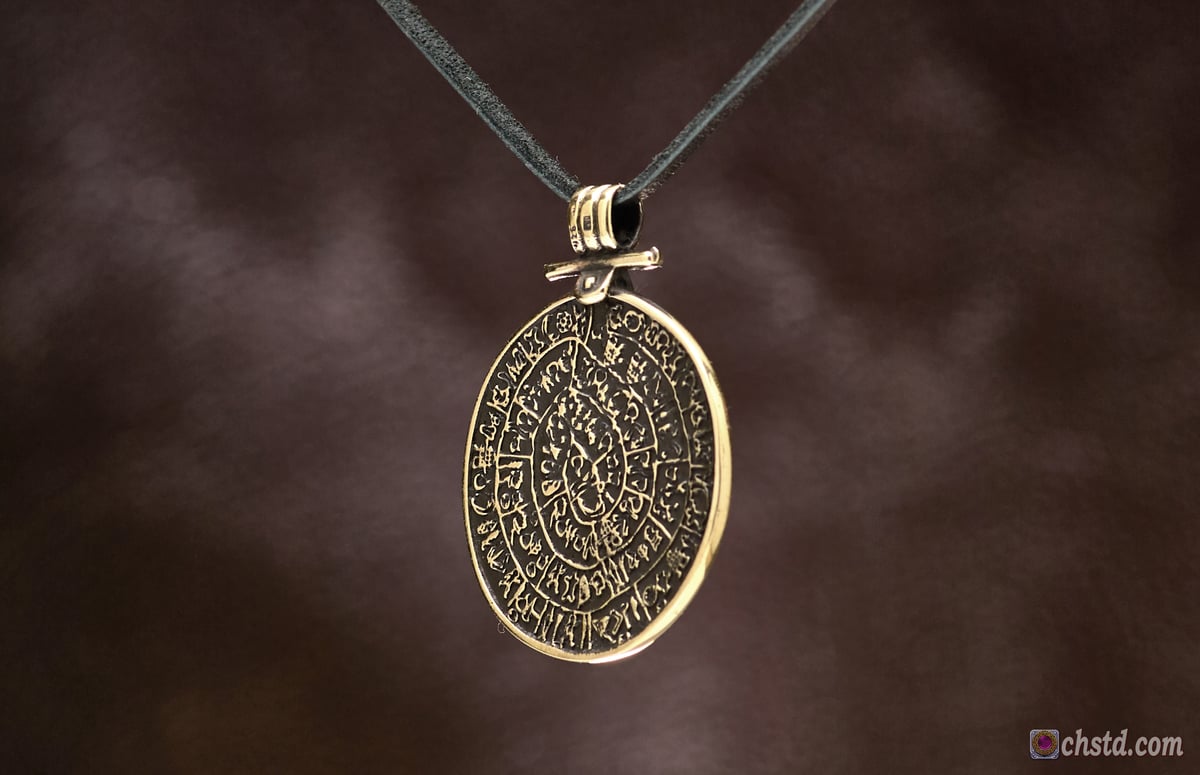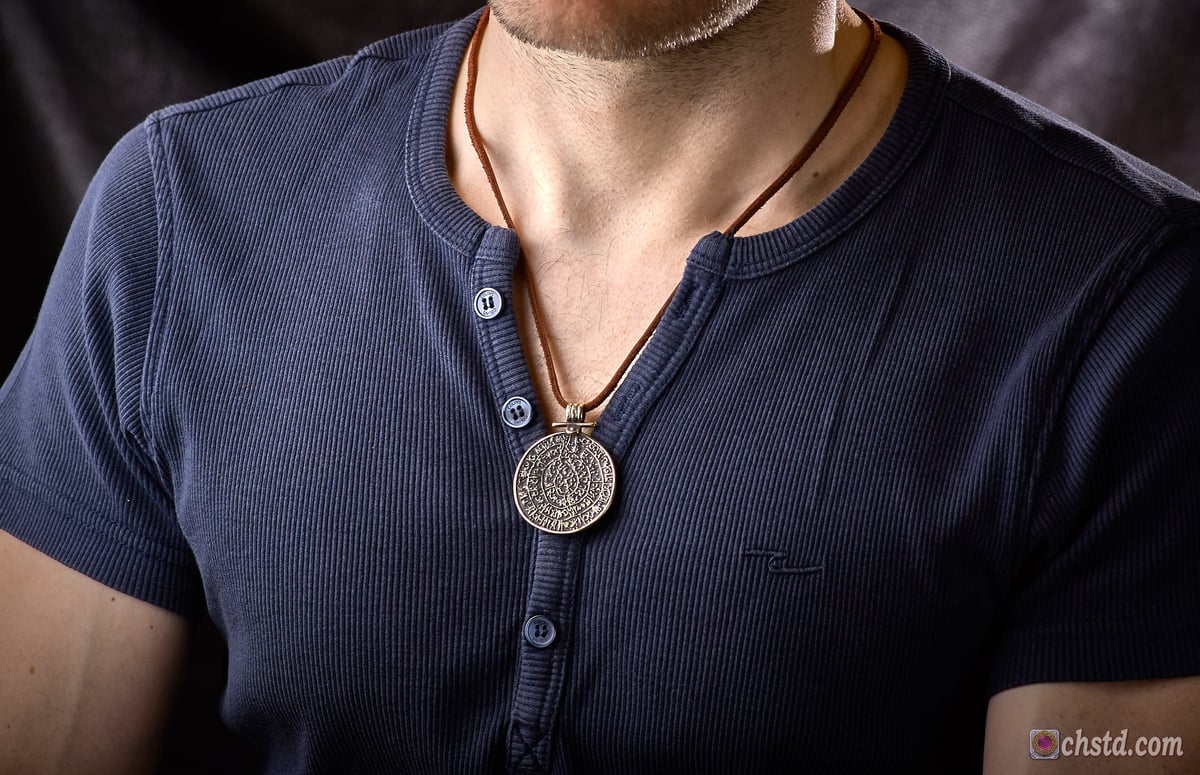 Follow us on Pinterest - Click Button
C.H.Studio Follow
PHAISTOS DISC - MINOAN PHAISTOS - GREEK DISC
$

29.50 / On Sale

Pendant made of bronze. 100 % HANDMADE! Top grade.
Pendant " PHAISTOS DISC " size: 1.92" (4.8cm) x 1.28" (3.2cm) x 0.12" (0.3cm).
PHAISTOS DISC - is a disk of fired clay from the Minoan palace of Phaistos on the Greek island of Crete.
There are 242 tokens on the disc, comprising 45 unique signs. Many of these 45 signs represent easily identifiable every-day things. In addition to these, there is a small diagonal line that occurs underneath the final sign in a group a total of 18 times. The disc shows traces of corrections made by the scribe in several places.
The Phaistos Disc (also spelled Phaistos Disk, Phaestos Disc) is a disk of fired clay from the Minoan palace of Phaistos on the Greek island of Crete, possibly dating to the middle or late Minoan Bronze Age (2nd millennium BC). It is about 15 cm (5.9 in) in diameter and covered on both sides with a spiral of stamped symbols. Its purpose and meaning, and even its original geographical place of manufacture, remain disputed, making it one of the most famous mysteries of archaeology. This unique object is now on display at the archaeological museum of Heraklion. The disc was discovered in 1908 by the Italian archaeologist Luigi Pernier in the Minoan palace-site of Phaistos, and features 241 tokens, comprising 45 unique signs, which were apparently made by pressing hieroglyphic "seals" into a disc of soft clay, in a clockwise sequence spiraling toward the disc's center. The Phaistos Disc captured the imagination of amateur and professional archeologists, and many attempts have been made to decipher the code behind the disc's signs. While it is not clear that it is a script, most attempted decipherments assume that it is; most additionally assume a syllabary, others an alphabet or logography. Attempts at decipherment are generally thought to be unlikely to succeed unless more examples of the signs are found, as it is generally agreed that there is not enough context available for a meaningful analysis.
Customer Reviews on Facebook
By Antonius Staghand: "Very nice detail and good weight! My only complaint is that they don't have longer chains, Barely fits over my head, Have to unscrew overtime. Minus that it's top quality will be purchasing more pendants later on for sure."

By Javier Olivares Sebastia: "Magnificent works of art made by hand. Traditional forms and symbols of the Viking culture made with vintage metals, bronze and many others A good gift and memory"

By Graeme Harrison: "Quality all the way! Amazed how good it is in real life!"

By Luis Miguel Cogolludo: "Trabaja bien, no defrauda, si se recomienda no te deja mal. Tiempo de respuesta muy bueno. Además dan número de seguimiento de los pedidos, para saber con certeza cuando llegara el pedido."

By Rainer Pries: "Geile Stücke, die ansprechen ! Mich besonders.....macht weiter so !!"

By Yves Roger Truchard: "A magnificent jewel, throughout you feel its power! It is an outstanding craftmansship and a fantastic handling of bronze! I love it!!!"

By Ulv Svart: "I'm really pleased to have jewelry from this brand. Takk."

More reviews...
Follow us on Pinterest - Click Button
C.H.Studio Follow
CUSTOMERS ALSO VIEWED