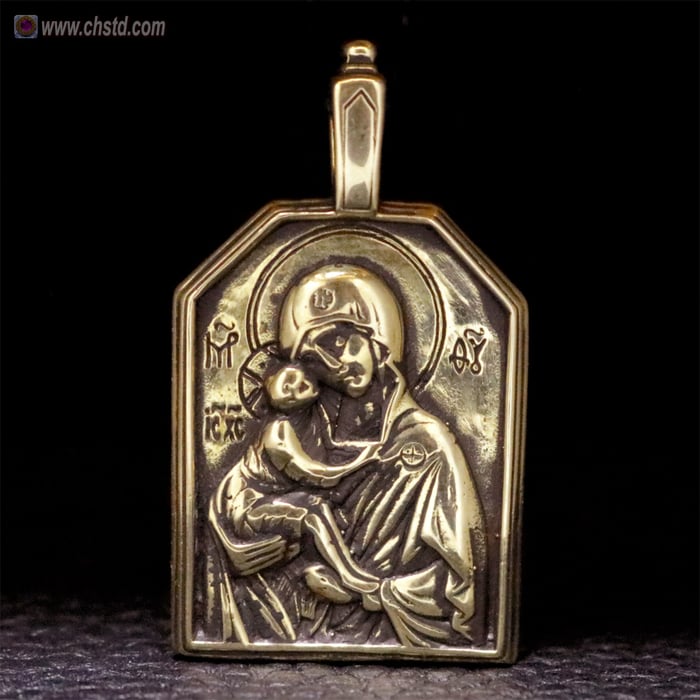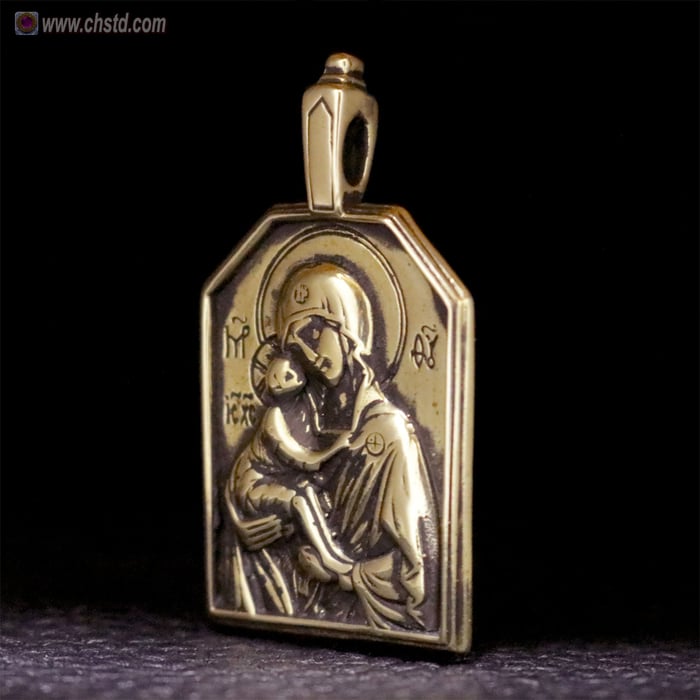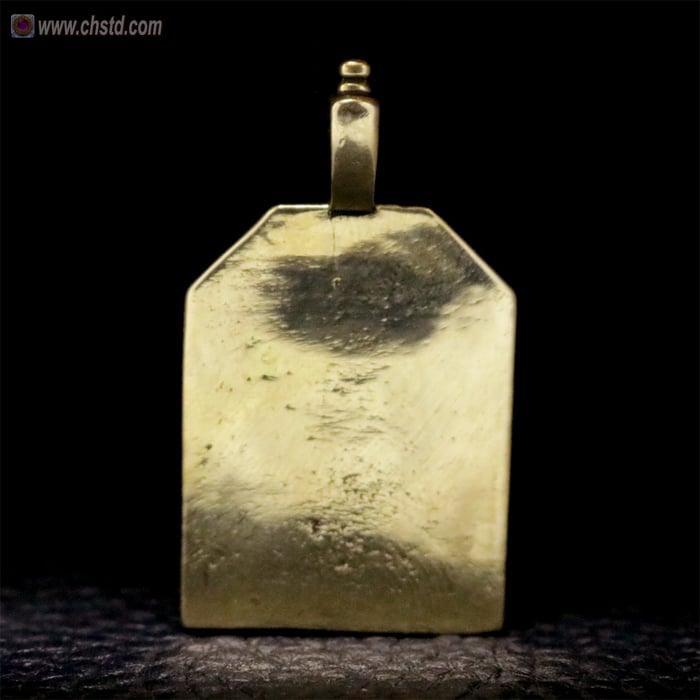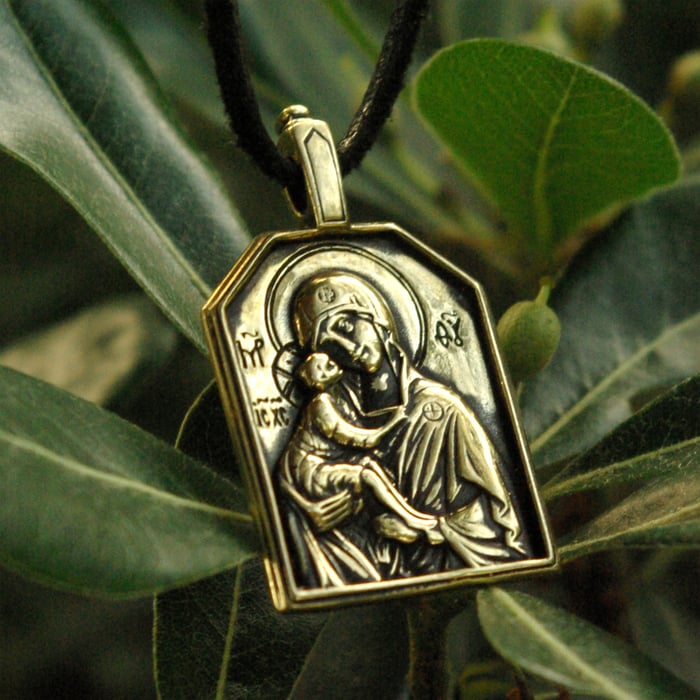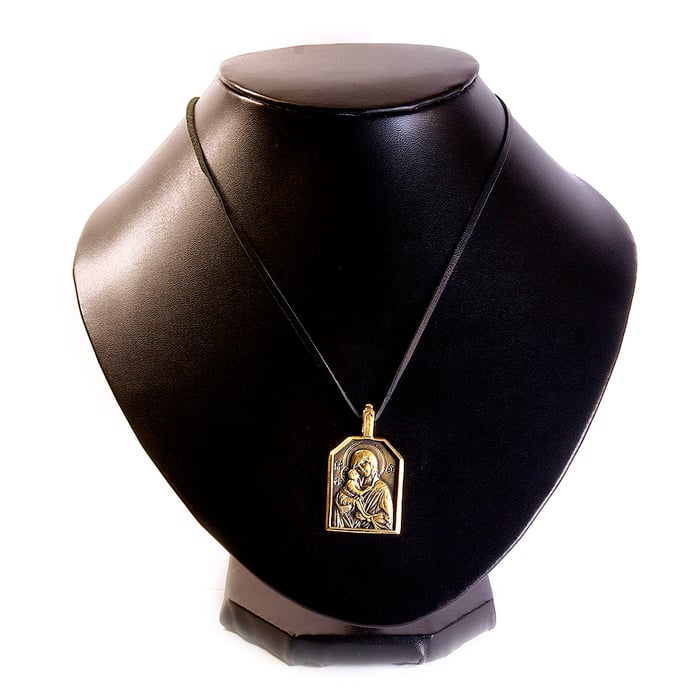 Follow us on Pinterest - Click Button
C.H.Studio Follow
Our Lady - Virgin Saint Mary
$

24.50 / On Sale

Pendant made of bronze. 100 % HANDMADE! Top grade.
Religious Christian Gift :: Pendant - symbol of Christianity - " Our Lady ".
Pendant - symbol of Christianity - " Our Lady ", a great souvenir and gift.
Pendant " Our Lady " size: 1.72" (4.3cm) x 1.0" (2.5cm) x 0.08" (0.2 см).
Don Theotokos - an icon of the Virgin with the infant Jesus in her arms , made in the iconographic hassled Eleusa ( Affection ) . This image of the Blessed Virgin brought on Kulikovo Field Don Cossacks of Sirotina town where the icon was kept in the Church of the Annunciation . After the battle, the Cossacks presented its return with a victory holy Grand Prince Dimitri . Prince brought the icon to Moscow first and put it in the Assumption Cathedral of the Moscow Kremlin , and on the construction of the Cathedral of the Annunciation transferred the image there. In memory of the victory on the banks of the Don icon called Don . Don izvod feature icons - knees bent legs naked babe put on his left wrist Dame. It concerns the left hand falling folds clothes Son. According to legend (according to the preface to the book supplementary Donskoi Monastery from 1692 ) , was presented to the Don Cossacks Moscow Prince Dmitry Donskoy before the Battle of Kulikovo ( 1380 ) . In the Russian Church venerated miraculous icon , a celebration in her honor takes place on August 19 in the Julian calendar . Our Lady of Aparecida, the patron saint of Brazil, represented by a statue of the Virgin Mary located in the Basilica of Aparecida in Aparecida in the state of São Paulo Our Lady of Fatima, the title given to the Virgin Mary by Catholics and others who believe that she appeared monthly, for several months, to three shepherd children at Fátima, Portugal, in 1917 Our Lady of Guadalupe, a Roman Catholic icon and Mexico's most popular religious image Our Lady of Guadalupe, Extremadura, the most important Marian shrine in the medieval kingdom of Castile Our Lady of Knock, an apparition in at Knock-Aghamore, Éire, 1879 Our Lady of La Salette, who appeared in 1846 to two shepherd children in La Salette Our Lady of Ljeviš Our Lady of Lourdes Our Lady of Mount Carmel Our Lady of Peñafrancia Our Lady of Penrhys
Customer Reviews on Facebook
By Antonius Staghand: "Very nice detail and good weight! My only complaint is that they don't have longer chains, Barely fits over my head, Have to unscrew overtime. Minus that it's top quality will be purchasing more pendants later on for sure."

By Javier Olivares Sebastia: "Magnificent works of art made by hand. Traditional forms and symbols of the Viking culture made with vintage metals, bronze and many others A good gift and memory"

By Graeme Harrison: "Quality all the way! Amazed how good it is in real life!"

By Luis Miguel Cogolludo: "Trabaja bien, no defrauda, si se recomienda no te deja mal. Tiempo de respuesta muy bueno. Además dan número de seguimiento de los pedidos, para saber con certeza cuando llegara el pedido."

By Rainer Pries: "Geile Stücke, die ansprechen ! Mich besonders.....macht weiter so !!"

By Yves Roger Truchard: "A magnificent jewel, throughout you feel its power! It is an outstanding craftmansship and a fantastic handling of bronze! I love it!!!"

By Ulv Svart: "I'm really pleased to have jewelry from this brand. Takk."

More reviews...
Follow us on Pinterest - Click Button
C.H.Studio Follow
CUSTOMERS ALSO VIEWED